Sliced Ham
Cinco Jotas Acorn-fed 100% Ibérico Shoulder Ham Sliced 3 oz
3 oz packet of sliced acorn-fed 100% ibérico ham (shoulder)
---
Enjoy the luxurious pleasure of a gourmet jamón ibérico with the ultimate convenience of handy pre-sliced packets. The packs are vacuum sealed imediately after slicing to ensure full freshness and flavor. Three ounces is the perfect amount to serve as an aperitivo with an intimate group of good friends who appreciate the best things in life.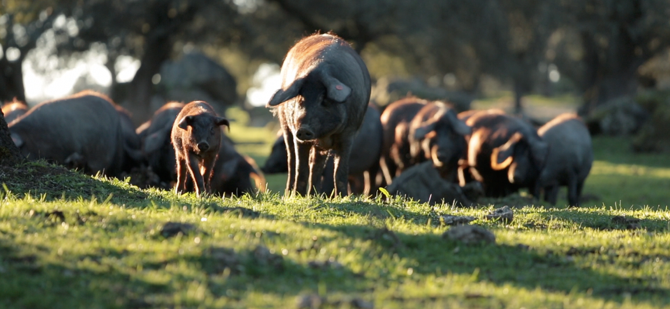 HEALTHY PLEASURES
What could be better than offering the gift of health, in handy pre-sliced packets of multisensory culinary pleasure?
THE PLEASURE OF CINCO JOTAS
Delicious sleeves of sliced acorn-fed 100% jamón ibérico, brought to you from Jabugo, a village in southwest Spain. Ham aficionados worldwide recognize the Cinco Jotas brand as one of the most authentic culinary pleasures that money can buy.
HEALTHY BENEFITS OF CINCO JOTAS
The benefits of the healthy Mediterranean diet are well documented and enjoyed by health-conscious gourmands around the world. Acorn-fed 100% ibérico ham boasts many of the attributes of this nutritional way of life.
Acorn-fed 100% ibérico ham is known for its exquisite aromas, textures and flavors, but what a bonus to discover that this delicacy of nature is also good for your health. Iberian de bellota ham has a series of nutritional properties that are sometimes overlooked. Acorn-fed hams have a higher concentration of amino acids for each gram of protein and a larger volume of healthy intramuscular fat. Since their natural diet consists of acorns in abundance (in addition to wild herbs, mushrooms, roots, and more), the oleic acids contribute to healthy cholesterol content considered healthy by experts in nutrition.
ENJOY THE FLAVOR OF AN AUTHENTIC CINCO JOTAS HAM
SERVING RECOMMENDATIONS
- 1 -
Ham should be stored refrigerated
- 2 -
Serve the ham at room temperature (approximately 64-72º F)
- 3 -
Packets come with easy-to-separate slices to facilitate their beautiful display.
- 4 -
Serve the ham, arranged slice by slice, on a on a warm, flat plate.
- 5 -
Eating this delicacy with your fingers is not only allowed but enthusiastically encouraged to enjoy the full tactile experience.
PAIRING AND RECIPES
What happens when you combine the most exclusive ham in the world with other national treasures of Spanish cuisine? Cinco Jotas Ham is the undisputed star of many recipes from great chefs. But sometimes you like to keep it exquisitely simple and easy.
Try the jamón with bread, tomato, fried eggs and french fries or place some ham slices on the top of a lentil salad or any other legume or vegetable salad. Simply delicious!
You may not have your own sommelier to advise on the perfect wine pairing for this exclusive acorn-fed ham, but we're certainly happy to give you some pointers!
A nice Manzanilla sherry from Andalucia always works or else a hearty Rioja. Why don't you try with a sublime Spanish red or White wine.
UNMATCHED QUALITY:
BLACK LABEL
All products from Cinco Jotas are fully compliant with the strictest regulations pertaining to health and safety, and maintain all the required certifications.
FEEDING DURING THE "MONTANERA" SEASON
BLACK LABEL
ACORN-FED 100% IBÉRICO HAM
RAISED FREE.RANGE
MIN 10.000 m2 PER ANIMAL
FEEDING DURING THE "MONTANERA" SEASON
"WHEN THE ACORNS ARE PIPE"
RED LABEL
ACORN-FED IBÉRICO HAM
RAISED FREE.RANGE
MIN 10.000 m2 PER ANIMAL
FEEDING DURING THE "MONTANERA" SEASON
GREEN LABEL
FREE-RANGE FED IBÉRICO HAM
EXTENSIVE OR INTENSIVE FARMING.MIN
100 m2 PER ANIMAL
FEEDING DURING THE "MONTANERA" SEASON
WHITE LABEL
INDUSTRIALLY-FED IBÉRICO HAM
INDUSTRIAL FARMING.
MIN 2 m2 PER ANIMAL
FEEDING DURING THE "MONTANERA" SEASON
CINCO JOTAS STORY
Beginning from 1879, the ancestral tradition of breeding, producing and hand carving Cinco Jotas Iberian ham has become legendary. With 140 years of experience ensuring purity and authenticity, the estemed brand is considered amongst the best pork products in the world. This is indeed why Cinco Jotas acorn-fed 100% ibérico ham is considered one of Spain's national treasures.
1-305-758-9288
Monday to Friday
from 9am - 7pm EST