Cinco Jotas Acorn-fed 100 Iberico Shoulder Ham Sliced Pack of 2x1.5 oz
Gift Collection
Cinco Jotas Acorn-fed 100 Iberico Shoulder Ham Sliced Pack of 2x1.5 oz
Sliced acorn-fed 100% ibérico ham (shoulder)
---
Cinco Jotas acorn-fed 100% ibérico ham, one of the most elite brands in the world of jamón de bellota, makes for a discerning, sophisticated gift for any ocassion.

The best flavour of two Cinco Jotas classics, ready to enjoy. Cinco Jotas Discovery Gift Box contains two packets of 1,5oz of sliced acorn-fed 100% ibérico ham (front leg).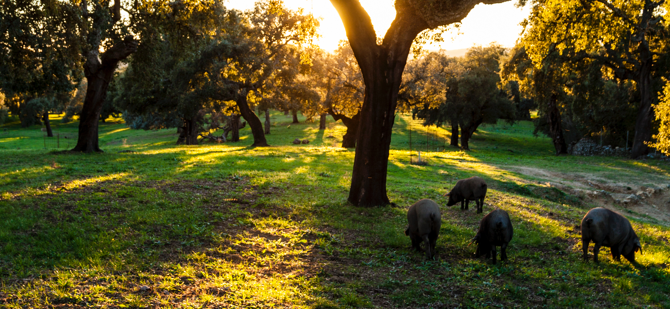 The gift of luxury is always appreciated, so you can't go wrong with the Cinco Jotas Discovery Gift Box. Double your pleasure with 2 sleeves of sliced acorn-fed 100% ibérico ham, sourced from pure-bred 100% ibérico pigs raised in ideal, ethical free-range conditions. These hams are the highest quality you can find, earning the official designation of bellota (Spanish for acorn), and black label. No need to get stuck for gift ideas. You and your loved ones deserve the very best, so why not indulge your foodie instincts and enjoy this special gift box together.
HEALTHY PLEASURES
What could be better than offering the gift of health, in handy pre-sliced packets of multi-sensory culinary pleasure?
THE PLEASURE OF CINCO JOTAS
Double your gourmet pleasure with two delectable sleeves of pre-sliced acorn-fed 100% jamón ibérico, brought to you from Jabugo, a village in southwest Spain. Ham aficionados worldwide recognize the Cinco Jotas brand as one of the most authentic, delicious culinary pleasures that money can buy.
HEALTHY BENEFITS OF CINCO JOTAS
Acorn-fed 100% ibérico ham is known for its exquisite aromas, textures and flavors, but what a bonus to discover that this delicacy of nature is also good for your health. Iberian ham de bellotahas a series of nutritional properties that are sometimes overlooked.
Acorn-fed hams have a higher concentration of amino acids for each gram of protein and a larger volume of healthy intramuscular fat. Since their natural diet consists of acorns in abundance (in addition to wild herbs, mushrooms, roots, and more), the oleic acids contribute to healthy cholesteral content considered healthy by experts in nutrition.
ENJOY THE FLAVOR OF AN AUTHENTIC CINCO JOTAS HAM
SERVING RECOMMENDATIONS
- 1 -
It's crucial to keep the ham packs refrigerated!
- 2 -
Serve at room temperature, with optimal temperature between 64-72º F.
- 3 -
If you can't wait to enjoy the deliciousness, place the vacuum-sealed package in warm water for two minutes before opening.
- 4 -
Best served sparingly on a flat plate, arranged sliced by slice. Once opened, consume the same day.
- 5 -
Savor the flavor and satisfying mouth-feel. You should also pick up the nutty undertones and sweet aroma and creamy texture created by the acorns. Enjoy!
- 6 -
Speaking of "picking up", it is greatly encouraged to pick up the jamón with your fingers for the full, authentic experience. Enjoy!
PAIRING AND RECIPES
Pairing the right drink with your pre-sliced Cinco Jotas acorn-fed 100% ibérico ham depends on your mood and personal taste. A nice glass of red wine, always works but you may want to try a sherry from Andalusia Spain, a sparkling wine such as cava or champagne, or even a good cold beer.
The Spanish love to appreciate their jamón as tapas, a small snack or appetizer. Why not try with some strips of acorn-fed ibérico ham together with some fresh mellon, or with white asparagus spears. You could also try the ham crumbled up on a fresh spinach salad or in a typical roasted tomato Salmorejo soup.
UNMATCHED QUALITY:
BLACK LABEL
Cinco Jotas brand products always adhere strictly to all Spanish and International health regulations and certifications.
FEEDING DURING THE "MONTANERA" SEASON
BLACK LABEL
ACORN-FED 100% IBÉRICO HAM
RAISED FREE.RANGE
MIN 10.000 m2 PER ANIMAL
FEEDING DURING THE "MONTANERA" SEASON
"WHEN THE ACORNS ARE PIPE"
RED LABEL
ACORN-FED IBÉRICO HAM
RAISED FREE.RANGE
MIN 10.000 m2 PER ANIMAL
FEEDING DURING THE "MONTANERA" SEASON
GREEN LABEL
FREE-RANGE FED IBÉRICO HAM
EXTENSIVE OR INTENSIVE FARMING.MIN
100 m2 PER ANIMAL
FEEDING DURING THE "MONTANERA" SEASON
WHITE LABEL
INDUSTRIALLY-FED IBÉRICO HAM
INDUSTRIAL FARMING.
MIN 2 m2 PER ANIMAL
FEEDING DURING THE "MONTANERA" SEASON
CINCO JOTAS STORY
The unique ecosystem of Jabugo, the birthplace of Cinco Jotas ham, has been declared a Biosphere Reserve by UNESCO. It is here that generations of artisans patiently care for these natural resources so that they produce the most precious fruit: the acorn. Our dedicated experts care for the free-range livestock, with a passion for understanding the 100% ibérico pig breeding process and the unforgettable montanera (season when the acorns fall from the trees to nourish the pigs). We understand the importance of the environment in the process of preparing the Cinco Jotas ham, so we take care of every detail to offer the very best quality possible.
1-305-758-9288
Monday to Friday
from 9am - 7pm EST