Loin
Cinco Jotas Acorn-Fed 100% Ibérico Loin 1.5 (sliced)
Thinly-sliced Iberian pork loin de bellota
---
Sliced thin from a whole cured Iberian pork loin, this delicacy has been mountain cured in the famed curing cellars of Spain. Lomo ibérico de bellota is an an absolute revelation. This beautifully marbled cured pork loin has a sweet, nutty flavor balanced with a smooth, smoky aroma. The perfectly thin slices will begin to melt in your mouth with every single bite.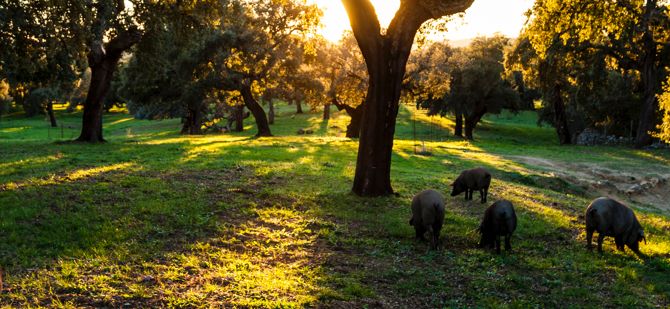 HEALTHY PLEASURES
THE PLEASURE OF CINCO JOTAS
This delectable cured cut of meat is made from free-range pork from 100% ibérico breed Spanish pigs that feast on sweet acorns, called bellotas. A whole pork loin is coated in smoky pimentón de la vera, smoked paprika, sea salt and garlic and cured for about three months. The gastronomic treasure - and infinite pleasure - is beyond compare.
ENJOY THE FLAVOR OF AN AUTHENTIC CINCO JOTAS HAM
SERVING RECOMMENDATIONS
- 1 -
Keep the loin refrigerated.
- 2 -
The loin comes in a convenient package of easy-to-separate slices.
- 3 -
When you're ready to consume the utter deliciousness of the loin, open the package and wait untill it gets to room temperature.
PAIRING AND RECIPES
Try placing your translucent, thinly-sliced morsels of ham on a warmed plate and enjoy the culinary delight together with crip, crunchy chunks of bread. This can be accompanied with a mild beer in order to counteract the intensity of the flavor. Dark beers with a certain bitterness also tend to be a good choice. Whatever you choose to enjoy along with your Cinco Jotas Iberian delicacy, you're in for a real treat.
CINCO JOTAS STORY
For close to 140 years Cinco Jotas dedicated experts care for their acorn-fed 100% ibérico free range livestock, with a relentless passion for understanding the breeding process, how the pigs grow throughout their life cycle, and the impact of the natural dehesas (meadows) in which they thrive. Because they understand the invaluable importance the environment plays on the process of preparing the ham, Cinco Jotas meticulously tends to every last detail to offer the very best quality ham available in the world today.
1-305-758-9288
Monday to Friday
from 9am - 7pm EST