Loin
Cinco Jotas Celebration Gift Set - Ode to the Cinco Jotas Flavour
Authentic Iberian delicacies with carving accessories.

Limited edition
---
Enjoy this limited edition. A unique design inspired by the Ode to the Cinco Jotas flavour, the first poem created by a Spanish poet, Fernando Beltrán, for Cinco Jotas. The illustrator Fernando Vicente and the calligrapher Oriol Miró were entrusted with the task of creating the visual design of the collection, through the motifs and calligraphy used to illustrate it.

These luxurious gift boxes contain all the essential items to enjoy the full traditional experience and flavor of Cinco Jotas:

- Bone-in Acorn-fed 100% Ibérico Ham
- Arcos professional knife
- Cinco Jotas Loin
- Information leaflet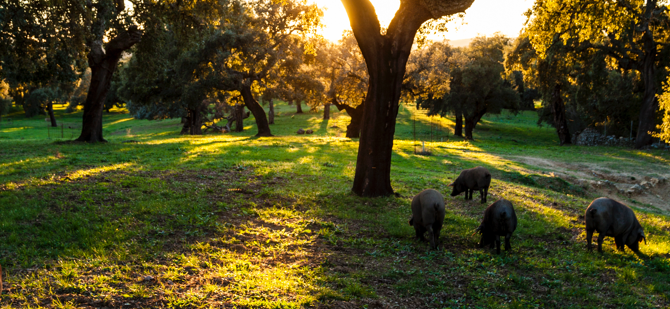 HEALTHY PLEASURES
Do you still think pork is unhealthy? You should know that, in addition to being delicious, pork meat and particularly products from pigs raised with acorns, are very healthy. It will even help you keep your figure slim.
THE PLEASURE OF CINCO JOTAS
Test a unique, unmatched gourmet experience: a toast, drizzled with extra virgin olive oil and some slices of acorn-fed 100% ibérico ham. No more, no less. Now, think the ham you are tasting is the outcome years of care and experience, of the selection of the best Iberian purebred pigs, a careful diet, based on acorns, and a careful process in the curing cellars.
HEALTHY BENEFITS OF CINCO JOTAS
Iberian pigs fed acorn-based have the peculiarity that their fat is different. Thanks to acorns and their outdoor breeding its meat have a high presence of oleic acid, a recognized protector of the cardiovascular system.
Sometimes, the exceptional flavor of a Cinco Jotas makes us ignore its nutritional properties, which are many and significant. Acorn hams concentrate a higher amount of amino acids for each gram of protein and have more healthy intramuscular fat. Acorn-fed pork and a varied outdoor diet make them a good source of vitamin C, niacin, phosphorus and zinc, vitamin B-12 and selenium.
ENJOY THE FLAVOR OF AN AUTHENTIC CINCO JOTAS HAM
SERVING RECOMMENDATIONS
- 1 -
Keep the shoulder ham packs in the fridge.
- 2 -
When it's time to taste them, think about taking them out of the refrigerator 5-19 minutes in advance. It is recommended to consume at room temperature.
- 3 -
If you're in a rush, put the packet in warm water for 2-3 minutes before opening the container.
- 4 -
it is presented in a convenient, ready-to-eat format. Use your fingers to take a slice, you will discover a sublime flavor.
PAIRING AND RECIPES
You can pair your Cinco Jotas ibérico ham with the renowned wines from the AOC Ribero del Duero and Rioja regions. But white wines are also excellent options: a glass of Manzanilla fine sherry, a Spanish cava or a champagne will help to enhance the flavors of the ham.
You can discover the intense flavor of Cinco Jotas in the heat of a recipe with vegetables and eggs. Naturally, on toast with tomato, or in elaborate recipes. A world of flavor and creative possibilities.
UNMATCHED QUALITY:
BLACK LABEL
Cinco Jotas selects the best pieces. Each one of them goes through an exhaustive quality control where it is determined whether the product complies the quality criteria due to its morphology, texture, aroma, color, lipid profile ... Only excellent pieces will be a Cinco Jotas.
FEEDING DURING THE "MONTANERA" SEASON
BLACK LABEL
ACORN-FED 100% IBÉRICO HAM
RAISED FREE.RANGE
MIN 10.000 m2 PER ANIMAL
FEEDING DURING THE "MONTANERA" SEASON
"WHEN THE ACORNS ARE PIPE"
RED LABEL
ACORN-FED IBÉRICO HAM
RAISED FREE.RANGE
MIN 10.000 m2 PER ANIMAL
FEEDING DURING THE "MONTANERA" SEASON
GREEN LABEL
FREE-RANGE FED IBÉRICO HAM
EXTENSIVE OR INTENSIVE FARMING.MIN
100 m2 PER ANIMAL
FEEDING DURING THE "MONTANERA" SEASON
WHITE LABEL
INDUSTRIALLY-FED IBÉRICO HAM
INDUSTRIAL FARMING.
MIN 2 m2 PER ANIMAL
FEEDING DURING THE "MONTANERA" SEASON
CINCO JOTAS STORY
Few brands can boast of a history of more than 140 years of experience. A century and a half in which the masters of the Cinco Jotas Curing Cellars in Jabugo, a small town in southwestern Spain, have turned tradition into a work of art. Because each Cinco Jotas product is the result of a slow and long artisan production process of more than 5 years. A search for perfection, piece by piece.
1-305-758-9288
Monday to Friday
from 9am - 7pm EST