Gift Collection
Cinco Jotas Tangram Box - The Garden of Eden
This colorful gift box contains one of the oldest Chinese board games, a tangram puzzle, with shapes you can use to serve your delicious ham.

Limited edition
---
The Tangram Box comes with 6 packs of 6x1.5oz of traditionally-carved Cinco Jotas Acorn-fed 100% Ibérico Ham (front leg), along with the wooden tangram puzzle with small pieces serving as mini plates, a bamboo 6-tong set, and a 2-napkin set.

This colorful Cinco Jotas Tangram Gift Box, features a full illustration on the lid, masterfully created by Spanish artist Tito Merello. A magical paradise known as "The Garden of Eden", the design depicts scenes inspired by Spanish artistic movements such as Costumbrism (depiction of every-day life) and Surrealism (magical perspectives from the unconscious mind).

Sharing Cinco Jotas deliciously, creatively and playfully!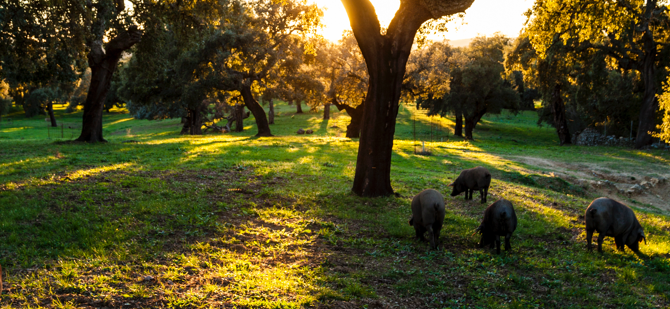 HEALTHY PLEASURES
The summum of a gastronomic pleasure presented in a convenient and beautiful format. Rarely come together a multisensory culinary luxury and a healthy product.
THE PLEASURE OF CINCO JOTAS
The pure Iberian pigs breed and a diet based on acorns during the montanera season, mark the difference of Cinco Jotas products. A process that culminates at your table. That's when, with a gesture as simple as taking a slice between your fingers and putting it in your mouth to savor it, a magical tasting experience is produced.
HEALTHY BENEFITS OF CINCO JOTAS
Acorn-fed 100% ibérico ham is a delicacy, carefully cared piece by piece, and good for your health.
Acorn-fed 100% iberico ham is part of the healthy Mediterranean diet, well known for the benefits it provides to body. This product has many caractheristics of this traditional type of diet. One of them is its high protein content compared to fresh pork, 50% more on average. For this reason it is a healthy and delicious option for to get the daily dose of protein that the body needs.
ENJOY THE FLAVOR OF AN AUTHENTIC CINCO JOTAS HAM
SERVING RECOMMENDATIONS
- 1 -
The packs of sliced hand-carved should be stored refrigerated.
- 2 -
Serve it at approximately 64-72º F (room temperature). You can use the wooden shapes or a plate to serve it.
- 3 -
So that you can enjoy without complications, the slices are prepared so that they are easy to separate.
- 4 -
We recommend you that use your fingers for taste it. It's the best way to enjoy the sensorial experience.
PAIRING AND RECIPES
Cinco Jotas pairs wonderfully well with other treasures of Spanish cuisine. This is demonstrated by great chefs from simple dishes to the most sophisticated creations.
If you don't want to complicate yourself, you have it very easy to enjoy Cinco Jotas. Taste slice by slice taken with your fingers from a delicately prepared plate is a revered gourmet pleasure.
UNMATCHED QUALITY:
BLACK LABEL
The quality and safety of Cinco Jotas products are guaranteed because they comply with strict import and safety regulations.
FEEDING DURING THE "MONTANERA" SEASON
BLACK LABEL
ACORN-FED 100% IBÉRICO HAM
RAISED FREE.RANGE
MIN 10.000 m2 PER ANIMAL
FEEDING DURING THE "MONTANERA" SEASON
"WHEN THE ACORNS ARE PIPE"
RED LABEL
ACORN-FED IBÉRICO HAM
RAISED FREE.RANGE
MIN 10.000 m2 PER ANIMAL
FEEDING DURING THE "MONTANERA" SEASON
GREEN LABEL
FREE-RANGE FED IBÉRICO HAM
EXTENSIVE OR INTENSIVE FARMING.MIN
100 m2 PER ANIMAL
FEEDING DURING THE "MONTANERA" SEASON
WHITE LABEL
INDUSTRIALLY-FED IBÉRICO HAM
INDUSTRIAL FARMING.
MIN 2 m2 PER ANIMAL
FEEDING DURING THE "MONTANERA" SEASON
CINCO JOTAS STORY
Cinco Jotas products come from 100% Iberian pigs that have been fed in the Spanish dehesas (meadows). They are raised in the wild in a natural environment for two years. The best pigs have been selected for 140 years and they are not crossed with other breeds. This process guarantees the purity of the product and becomes its hallmark. This exclusivity makes Cinco Jotas a unique product.
1-305-758-9288
Monday to Friday
from 9am - 7pm EST