Boneless Ham
Cinco Jotas Ham (front leg) gift set - "The iconic winery"
The genuine Acorn-fed 100% Ibérico Ham (front leg) with carving accessories.

Limited edition
---
In collaboration with artists Ana Domínguez and Nacho Alegre, Cinco Jotas presents a luxurious illustrated case that pays homage to its iconic cellars in Jabugo, Southern Spain. This special place is where master artisans pass their experience on from generation to generation.

A limited-edition gift box to enjoy the authentic flavors of Cinco Jotas, with these essential items.

- Bone-in Acorn-fed 100% Ibérico Ham (front leg) 11-14 LB
- Cinco Jotas Loin Half Piece
- Arcos carving knife
- Cinco Jotas Tongs
- Information leaflet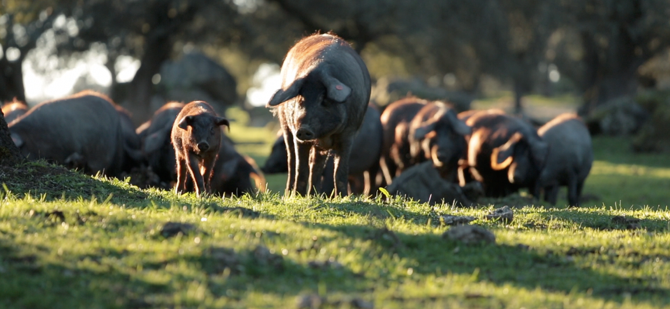 HEALTHY PLEASURES
The 100% Iberian acorn-fed ham with whole bone comes from the front leg of the pig. In Spanish it is known as "paleta". Gourmet palates appreciate this piece for the nuances of flavor and aroma. A treat to give to foodies or to enjoy at home.
THE PLEASURE OF CINCO JOTAS
Cinco Jotas ham comes from free-range pigs in southwestern Spain. The 100% Iberian purebred pig takes two years to mature, and several more years are needed to cure the ham following a traditional method. All this careful process makes the hams rich in aromas, textures and flavors. A luxury to enjoy on any occasion.
HEALTHY BENEFITS OF CINCO JOTAS
The Mediterranean diet is renowned for its healthy benefits. Thanks to the diet that the pure Iberian breed pigs receive, the 100% Iberian acorn-fed ham is, in addition to being a delicious product, a healthy food.
Iberian ham has high levels of monounsaturated fatty acids, essential for the body. It is only surpassed by olive oil, the great product of the Mediterranean diet. For this reason, pure Iberian breed pigs are known as "olivos con patas"
ENJOY THE FLAVOR OF AN AUTHENTIC CINCO JOTAS HAM
SERVING RECOMMENDATIONS
- 1 -
The shoulder ham should be kept in a cool and dry place. The ideal serving temperature is between 64-72º F.
- 2 -
Once the ham clean (fat removed) use your Zwilling carving knife in a gentle movements without make pressure. It's necessary that the piece of ham be firmly supported on a convenience base.
- 3 -
One of the secrets to enjoy all the nuances of aroma and flavor of a authentic Cinco Jotas ham is get very thin, almost transparent slices. Place them on a plate.
- 4 -
Using your fingers is the best way to enjoy the full jamón experience. Take a thin slice to appreciate the a pleasant, long-lasting flavor.
PAIRING AND RECIPES
In case it's your first experience with Cinco Jotas acorn-fed 100% ibérico ham, try it on its own. You will discover all a universe of sensations.
Acorn-fed Iberian ham pair very well with aged red wines or white wines with low acidity. A spanish red or white wine combine really well.
UNMATCHED QUALITY:
BLACK LABEL
The Black Label identify that the pigs of Cinco Jotas are 100% ibérico breed, raised free range. Cinco Jotas has been awarded the international quality certificates for health and safety (SGS ISO 9001 and ISO 14001).
FEEDING DURING THE "MONTANERA" SEASON
BLACK LABEL
ACORN-FED 100% IBÉRICO HAM
RAISED FREE.RANGE
MIN 10.000 m2 PER ANIMAL
FEEDING DURING THE "MONTANERA" SEASON
"WHEN THE ACORNS ARE PIPE"
RED LABEL
ACORN-FED IBÉRICO HAM
RAISED FREE.RANGE
MIN 10.000 m2 PER ANIMAL
FEEDING DURING THE "MONTANERA" SEASON
GREEN LABEL
FREE-RANGE FED IBÉRICO HAM
EXTENSIVE OR INTENSIVE FARMING.MIN
100 m2 PER ANIMAL
FEEDING DURING THE "MONTANERA" SEASON
WHITE LABEL
INDUSTRIALLY-FED IBÉRICO HAM
INDUSTRIAL FARMING.
MIN 2 m2 PER ANIMAL
FEEDING DURING THE "MONTANERA" SEASON
CINCO JOTAS STORY
Jabugo is located in the southwest of Spain, a natural space wooded with holm oaks, with ideal characteristics for the breeding of the pure Iberian breed pigs. In addition, it's found in the center of an area declared a Biosphere Reserve by UNESCO. Was in 1879, more than 140 years ago, when start the legendary story of Cinco Jotas, a brand whose pork products are recognized among the best in the world.
1-305-758-9288
Monday to Friday
from 9am - 7pm EST