Official Shop
Cinco Jotas Acorn-Fed 100% Ibérico Sliced Ham (shoulder) - 1.5 oz
1.5 oz packet of sliced acorn-fed 100% ibérico ham (shoulder).
---
A smaller portion of this delicious gourmet treat allows you to savor the full package in one go. These sliced morsels of culinary joy come from the shoulder of the ibérico pig, which has been raised free range on a scrumptious diet of acorns, wild herbs, mushrooms and other naturally-occuring nibbles in their indigenous habitat of the Spanish dehesas (meadows).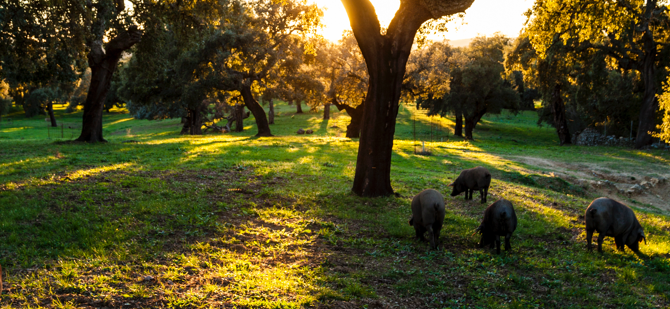 HEALTHY PLEASURES
If you believe that pork isn't good for you, boy are you in for a treat! You can have your delicious pork, eat it too, and it can help you to both stay healthy and to keep your figure slim and trim!
THE PLEASURE OF CINCO JOTAS
Envision this: a breakfast of perfectly-fried eggs with rustic toast drizzled with extra virgin olive oil and a side of acorn-fed 100% ibérico ham. slices of this gourmet delight, which is jamón ibérico de bellota, arguably the greatest item of food in the world. Pierce the soft, golden yolks of the egg with a translucent slice of jamón and allow it to linger on your tongue, as the yellow ribbon of acorn-rich fat begins to dissolve into savory bliss. Few food experiences will match such an experience of culinary pleasure.
HEALTHY BENEFITS OF CINCO JOTAS
The benefits of the healthy Mediterranean diet are well documented and enjoyed by health-conscious gourmands around the world. Acorn-fed 100% ibérico ham boasts many of the attributes of this nutritional way of life.
Pork often gets a bad rap. You may not know that it's actually a good source of vitamin C, niacin, phosphorus and zinc, and a very good source of protein, vitamin B-12, oron and selenium. The more varied the pigs diet and the more time it spends outdoors in the sun, the better its nutrition will be. This is why acorn-fed 100% Iberian ham is one of the healthiest meats you could eat.
ENJOY THE FLAVOR OF AN AUTHENTIC CINCO JOTAS HAM
SERVING RECOMMENDATIONS
- 1 -
Keep the pack refrigerated
- 2 -
When ready to eat, remove from the refrigerator 5-19 minutes in advance, so ham reaches room temperature
- 3 -
If you can wait to enjoy the Iberian explosion of flavor, try putting the pack into warm water for 2-3 minutes before opening the container.
- 4 -
Arrange the ham on a simple, warmed, flat plate and enjoy in all its exquisite simplicity.
- 5 -
Feel free to enjoy with your fingers!
PAIRING AND RECIPES
Acorn-fed Iberian jamón aged for long periods of time, such as the ham from Cinco Jotas, pair very well with reserve red wines. This is due to the precise degree of aromatic concentration. Wines from the AOC Ribero del Duero and Rioja regions combine really well good-quality, acorn-fed ham.
Try thin slices of Spain's national treasure, Cinco Jotas ham, together with pieces of bread and some authentic Manchego cheese. A great idea is to chop up some tomatoes and place them on top of crunchy rustic toast slices with elegant strips of Cinco Jotas gently placed on top. Simply Delicious!
UNMATCHED QUALITY:
BLACK LABEL
The famous Black Label shows that Cinco Jotas complies with all Spanish and International regulations pertaining to health and safety.
FEEDING DURING THE "MONTANERA" SEASON
BLACK LABEL
ACORN-FED 100% IBÉRICO HAM
RAISED FREE.RANGE
MIN 10.000 m2 PER ANIMAL
FEEDING DURING THE "MONTANERA" SEASON
"WHEN THE ACORNS ARE PIPE"
RED LABEL
ACORN-FED IBÉRICO HAM
RAISED FREE.RANGE
MIN 10.000 m2 PER ANIMAL
FEEDING DURING THE "MONTANERA" SEASON
GREEN LABEL
FREE-RANGE FED IBÉRICO HAM
EXTENSIVE OR INTENSIVE FARMING.MIN
100 m2 PER ANIMAL
FEEDING DURING THE "MONTANERA" SEASON
WHITE LABEL
INDUSTRIALLY-FED IBÉRICO HAM
INDUSTRIAL FARMING.
MIN 2 m2 PER ANIMAL
FEEDING DURING THE "MONTANERA" SEASON
CINCO JOTAS STORY
Cinco Jotas products come only from 100% ibérico pigs that have grazed in natural, free-range Spanish dehesas (meadows), without being crossbred with other breeds and with only the best being selected genetically for breeding. This has allowed Cinco Jotas to guarantee the exquisite quality of its products for the past 140 years, while preserving this revered species in the world. The fact that less than 1% of pigs "sacrificed" each year in Spain are 100% ibérico an idea of the sheer exclusivity of Cinco Jotas ham.
1-305-758-9288
Monday to Friday
from 9am - 7pm EST